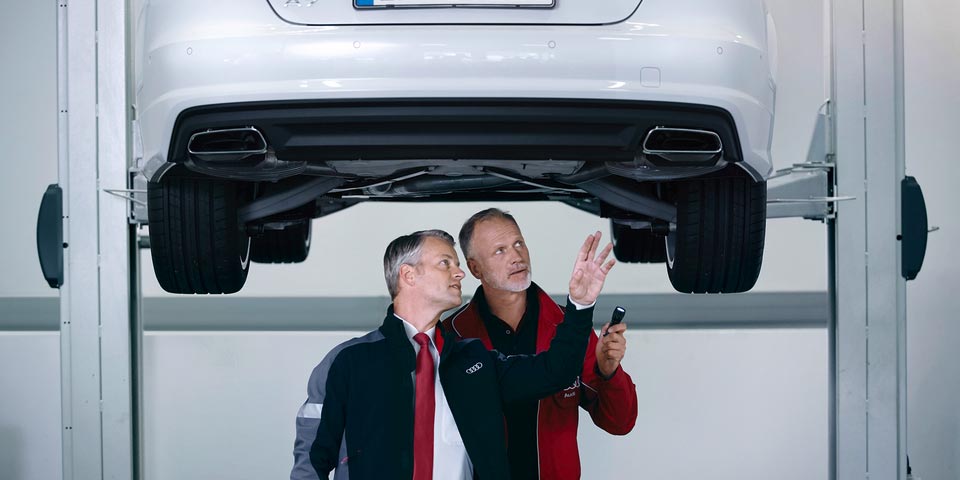 Discover the Convenience of the Audi Care Program Here at Audi Temecula in Temecula, CA
If you're the type of shopper who appreciates a solid plan, whether it be an itinerary for your vacation, or a sensible investment strategy to help you save down the road, then you'll surely appreciate the convenience and peace of mind that's delivered through the Audi Care program here at our Audi dealership in Temecula, CA. We understand that as you shop around for your new Audi sedan or SUV, the thought of repairs and scheduled maintenance might be looming over your head, and while vehicle maintenance might not be at the top of your to-do list, it is significant to ensuring you get to enjoy a stress-free lifestyle.
What is the Audi Care Program?
To better help facilitate a hassle-free driving experience of your particular Audi model, our manufacturer certified experts recommend servicing your vehicle every 10,000 miles of every 12 months (whichever milestone is reached first). In order to help you along the way, Audi has provided a helpful bundle of Audi Care Select prepaid scheduled maintenance packages that consists of service every 10,000 miles on your vehicle up to 52,000 miles or 60 months from the vehicle's first service date (again, whichever is hit first). This package can be purchased through any authorized Audi dealership throughout the United States to ensure your Audi model is running at its peak performance and capabilities. That's not all though - we've included some of the many other benefits you'll be able to enjoy through this convenient bundle below.
Scheduled maintenance milestones as mandated by the professionals at Audi
Expert maintenance overseen by the manufacturer at our in-house service facility in Temecula, CA
Prepaid costs won't be affected by inflation down the line
Genuine Audi accessories and equipment from our onsite parts department
What Services, Tests, and Inspections are Covered Under the Audi Care Select Package?
You're probably wondering what you're exactly signing up for when you pick up the Audi Care Select bundle. This competitive package covers all the bases of your vehicle's well-being and health. As aforementioned, our onsite service facility is staffed by a team of committed Audi experts ready to provide their caring eye and steady hands to ensure your model is running as if its been driven straight off the showroom floor. After picking up this lucrative package, your Audi model will be covered for the following services:
Axle Inspections
Brake Fluid Replacement
Cloth Top Inspections (on applicable models)
Belt and Tensioner Inspection and Repair
Battery Replacements and Repairs
Charging Socket Cleaning and Repairs (on e-tron vehicles)
Cooling System Inspection and Repairs
Dust and Pollen Filter Cleaning
Exhaust System Inspection
Electronics Diagnostics and Repair
Power Steering Fluid Adjustments and Refills
Spark Plug Tests and Replacements
Transmission Checks
Tire Checks and Pressure Adjustments and more!
Audi Care Select Packages for 2020+ Models
Audi Care Select packages may be purchased for 2020 and newer Audi vehicles sold our leased at our dealership.

Audi Care Select Packages may be sold individually at any time, provided the vehicle meets the age and mileage parameters. The only time multiple Audi Care Select packages can be purchased together is at the time of Audi CPO vehicle purchase, as long as the vehicle meets the vehicle age parameters.
Your authorized Audi dealer provides one-stop convenience for maintenance, and the confidence that no one is better equipped to maintain your Audi. Purchasing Audi Care or Audi Care Select is easy. Just call us, and a trained Service Consultant will be happy to help you.
Why Visit Audi Temecula?
So, you're interested in securing the Audi Care package, but you have a whole plethora of options when it comes to Audi dealerships in California, so why choose us? For starters, you'll always be met with a warm smile, firm handshake, and truly stellar expertise. Whether you're just dropping by for a quick oil change or are bringing your model in for some more extensive repairs; we treat all our customers with the same high level of respect you deserve. White glove service doesn't start and stop with our friendly demeanor and insider know-how though. We also boast an onsite service facility that's equipped with all the finest and latest state-of-the-art technology and gear to ensure you vehicle is running as if it were put together and driven off the Audi manufacturing plant floor yesterday. Reach out to set up a service appointment or ask about the Audi Care program today.